Competitions can take many forms on Instagram. The best instagram competitions are the ones that have amazing prizes, or are fun to enter. For example, there are photo competitions using hashtags, tag-a-friend and/or like/comment to win entry options, "caption this" photo contests, IG stories competitions and of course loop competitions.
What is a loop competition all about?
A loop competition is generally run on Instagram. It involves a number of brands or products joining together in a giveaway. Each brand involved gives away a prize creating a "super bundle giveaway". There is a single image created, which shows all the prizes in the super bundle. This image is then posted on the same day and time, by all of the brands involved.
To enter, a person will have to follow the loop of brands, like the post and follow each brand in the loop. This means all the brands in the loop gain lots of new followers.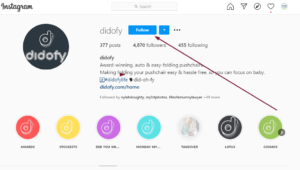 Why should I run a loop competition?
How does a loop competition benefit you as a brand?
In a nutshell – reach, engagement and growth.
These types of competitions help you gain rapid engagement and reach from your existing followers, and help you gain new followers throughout the duration of the competition. Some accounts can achieve thousands of new followers in one competition, especially if the brands joining you in the loop have large audiences already on Instagram.
TOP TIP: Make sure the brands you join up with are in the same market and have a similar target audience as you. This means you will gain new followers who will be relevant to your brand.
Instagram competition examples
Say you are in the baby industry and sell highchairs. You want to run a competition to raise your engagement and increase your followers on Instagram.
What brands should you approach?
Choose brands that have a similar target audience to you. Think about the age range of a child who uses a highchair, what other products would a parent like to win in a bundle that isn't a direct competitor to you as a brand? It could be a weaning food brand, a bib company, weaning tableware, a toy for that age range, maybe something handy for mum or dad!
Here is a great example of a loop competition:
How should I write my Instagram Competition post?
Before you get all excited about running a competition on Instagram, make sure you review the Instagram promotion rules. You should also have confirmation from all brands involved a date and time to go live with the competition.
When writing your post, make sure it is very clear and concise, avoid writing long descriptions of each prize as this can put people off.
TOP TIP: If you are doing a loop competition for the first time, start off with around 5-6 brands in a competition. You might find it gets overly complicated if you have too many brands involved.
Checklist of things to include in your post:
Total prize bundle RRP
List of prizes
How to enter
Start and end date
How you are going to announce the winner
Which countries can enter
Instagram release statement
Instagram statement "Acknowledgement that the promotion is in no way sponsored, endorsed or administered by, or associated with, Instagram."
Here is a loop competition template to help you write your competition:
🔔 COMPETITION TIME 🔔
We are excited to have teamed up with 5 amazing brands to put together a prize bundle of gifts worth over £xxx!
To enter:
👉 LIKE this post
👉 FOLLOW @mediasnug @weaningweek @nursery__online @didofy
👉 TAG a friend in the comments (one tag per comment)
👉 UNLIMITED ENTRIES – the more friends you tag, the higher the chance you have of winning!
Prize from Media Snug:
1 x xxx worth £xxx
Prize from Weaning Week:
1 x xxx worth £xxx
Prize from Nursery Online:
1 x xxx worth £xxx
Prize from didofy:
1 x xxx worth £xxx
👉 T & C'S: Competition open to UK entrants only. Competition ends at 5pm on Tuesday 13th October. One entry per household. Winner to be picked at random.
👉Participating and entering in this competition is considered a complete release of Instagram and an acknowledgement that this giveaway is in no way affiliated, sponsored, endorsed or administered by Instagram.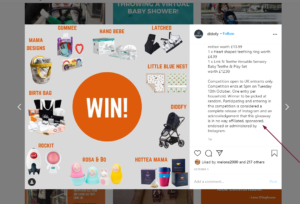 What do I need in the loop competition image?
Now you have written your competition copy, you now need to create an image to go on all the brand pages. The easiest way to do this is to ask all of the brands involved to send you a transparent .png image of the product being given away. Once you have all the images, either design an image yourself using a design platform like canva.com or ask a graphic designer to create the image for you.
TOP TIP: Resist the urge to put lots of words on the image. Just the word "WIN!" in the center works really well. Instagram image size is 1080 x 1080 px.
Make sure everyone is onboard!
Now you have your competition copy and image ready, send an email to all the brands involved for approval. Include the competition copy, the competition image and a reminder of the date and time it is to go live. Everyone has to post at the same time to make sure it works.
Good luck!