Ever wondered what the exact pixel sizes are for your social media platform images? We have compiled a short list of the main platforms used including, Twitter Header, Facebook cover, Youtube channel art & profile images, along with their required dimensions and rules you will need to apply to make them mobile & device friendly.
820 x 461px
This size allows you to position it on your Facebook page and means nothing will be cropped off the edges when viewed on a mobile device
OR;
828 x 315px
Rules: Any text or images should be within 828 x 465 mobile & device friendly
800 x 800px (Shrink to fit using the slider on Facebook)
FACEBOOK POST WITH WEB LINK IMAGE:
FACEBOOK ADVERTISING TEXT RULES ON IMAGES:
If you want to advertise on Facebook you need to familiarize yourself with the Facebook text rules. Facebook strictly regulate the amount of text allowed on any of your Facebook images that you wish to advertise, including rules which they like you to apply when designing your images. They also have a handy tool to help you discover if your image will approved for advertising and will give you hints and tips.

1500 x 500px
Rules: Stick to the safe zone when designing your banner to avoid your text or key parts of your image being chopped off.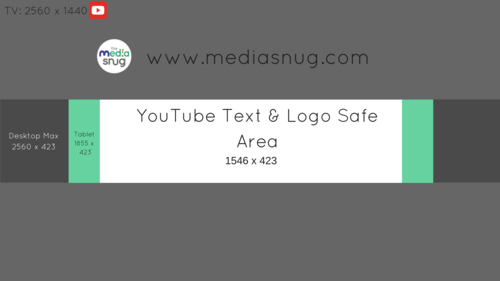 2560 x 1440
Rules: stick to safe zone for text & images – 1546 x 423. Be sure to read through their support page before designing your channel art.
IF YOU HAVE ANY QUESTIONS YOU WOULD LIKE ANSWERING, OR WOULD LIKE TO DISCUSS SOCIAL MEDIA OR DIGITAL MARKETING FOR YOUR BUSINESS, PLEASE DO CONTACT US!