Here's the lowdown on the Clubhouse app
Is social media one of your biggest sources of traffic and awareness? Let's face it, it's big for all of us.  
Social media should be at the heart of your business when it comes to influencing your consumers and prospects. Therefore, you've probably got your channels working hard for your brand. If you haven't, get in touch and we can help you to create a social media strategy that is on point.
One thing that is a constant challenge with social media however, is how quickly things move on. 
It's important to make sure that you have an agile social media strategy, which can evolve to updates on the platforms you're focused on. 
You'll also need to incorporate game-changing arrivals to the market, as and when they happen. 
Enter, Clubhouse audio chat.
What is the Clubhouse app platform?
Clubhouse app is a brand new social media platform that launched slap bang in the middle of the Covid-19 pandemic. When we were working on our sourdough starter and clapping on the doorstep, Silicon Valley was adding to the social media landscape. 
Clubhouse app is currently in beta testing, which means it's invite-only. It is however one to watch as there's one critical difference which sets it apart from other platforms.
It uses something that the others don't; audio. It allows people all around the world to connect and talk. Unlike Facebook or Instagram for example, it's based on voice, rather than images or text.
According to its creators, "it's a place to meet with friends and with new people around the world—to tell stories, ask questions, debate, learn, and have impromptu conversations on thousands of different topics."
People can talk, tell stories, develop ideas, and generally just connect.
What happens inside the platform?
Once in, you'll find rooms which are marked as open. In a nutshell, these are full of people who are talking, and you are free to drop in and listen to what is being said.
You can contribute if you want to. The Clubhouse app allows you to raise your hand, and the speaker can allow you to speak or can mute you. 
You're also free to set up your own room.
There's no video, unlike other platforms, so no need to worry about what you're wearing. 
The one big rule of Clubhouse however is that nothing is allowed to be recorded.
So unlike other social networks which are all about creating content, conversations will not be saved.
That doesn't mean that someone can't record it on a different device, though. So although it violates the rules, there is potential to be caught out if it's a gossip-worthy subject.
Who is using the clubhouse app?
It's currently in private beta testing, so there are only select users right now. 
Famous names who are using Clubhouse include Drake, Oprah and Kanye. There's a good chunk of Silicon Valley staff using it too, who like it for networking and engaging with influencers and media.
The press has also reported that the platform has been used to showcase talent. Musical, Hamilton hosted audition rooms whereby users were asked to sing for the chance to win tickets to see the show in London.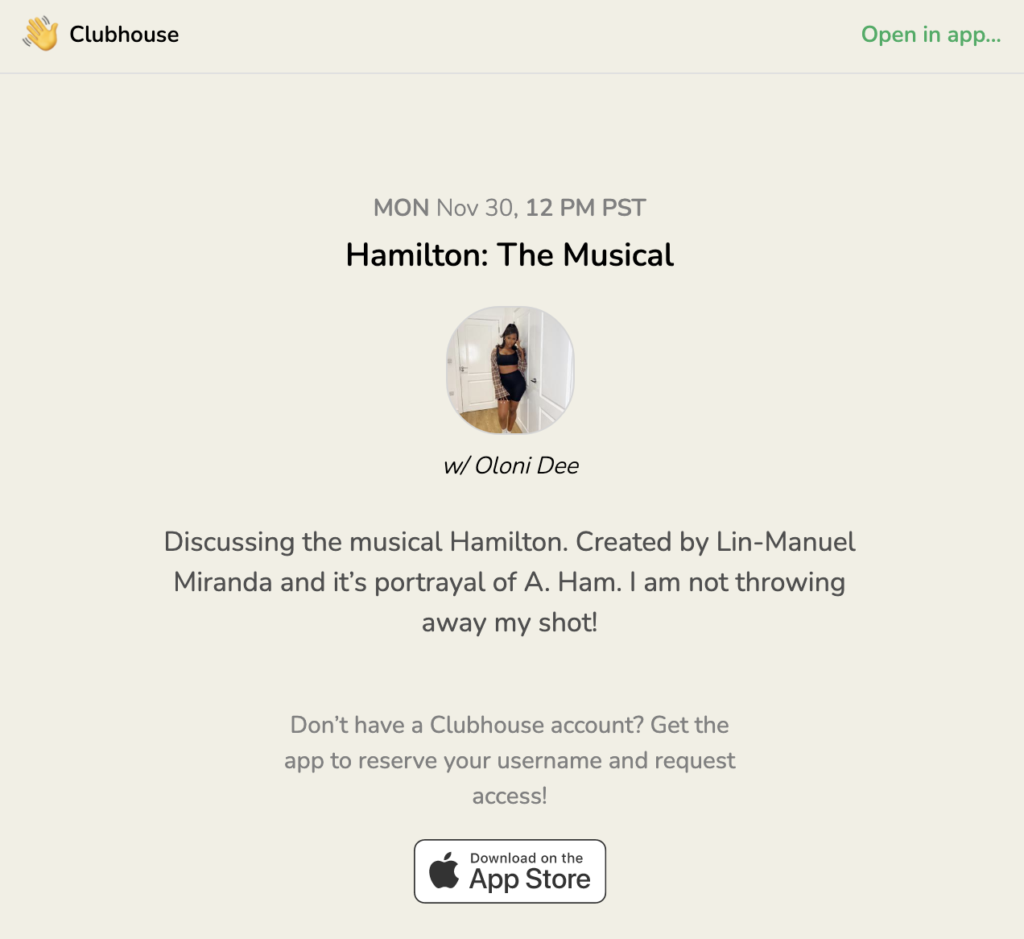 Although it's not available to us mere mortals just yet, you can reserve your username and join the waiting list.